Chin Liposuction
Chin Liposuction- The Best Way To Get Rid Of Double Chin
A double chin, also known as submental fat, is a very common condition that occurs when a layer of fat gets deposited below your skin. The condition is often associated with weight gain, but the people who are not associated with it can also get it. Genetics and loose skin are also major causes of a double chin.
If you want to get rid of your double chin, then chin liposuction is the best option for you. This surgical procedure has helped thousands of patients to improve the appearance of their necks and skin. Chin liposuction is performed by making a very small incision, which is nearly imperceptible. It is often combined with other procedures in the chin as well as the neck area to get amazing results, including neck lift, neck muscle tightening, and chin augmentation with a chin implant.
Double chin surgery recommendations are solely based on the skin quality of the patient.
People in the age of 20-50, who have elastic skin can benefit from neck liposuction.
Neck lift surgery can prove to be helpful in correcting the double chin as well as loose skin on the neck.
Sub mentoplasty is somewhere in the middle of these two procedures which involves liposuction and small incisions under the skin. It is also known as a mini neck lift.
At times, neck liposuction and neck lift are performed together to get desired results.
Dr. Amit Gupta is the best chin augmentation surgeon in Delhi. He uses new techniques like VASER or Smart LASER Lipo to perform the procedure. Vaser is used to liquify the fat and then the fat is taken out via liposuction. The procedure involves the usage of a thin tube to suction out the excess fat.
What can chin liposuction do?
A chin liposuction procedure can help you achieve the following:
Remove double chin
Remove fat in the face that is resistant to healthy dieting and exercise
Get a defined jawline and balance the facial features
Facial rejuvenation
Ideal candidates for chin liposuction
A person is a fit candidate for chin liposuction if:
The overall health of the patient is good and there is no underlying disease in the body.
There is puffy and bulky fat under the jawline or neck.
The skin has good elasticity. People whose skin is not elastic, do not get good results.
Chin liposuction is not an ideal case scenario for obese people. They have a deeper layer of fat that liposuction is unable to touch and that fat will remain after the procedure too.
Chin Liposuction procedure
The liposuction procedure involves the basic steps:
Firstly, the surgeon examines the chin and neck and makes markings on the areas where they will insert cannulas.
Secondly, the skin is then cleaned thoroughly using an antiseptic solution in order to reduce the chances of infection.
The patient will then be induced sedatives or a local anesthetic to numb the skin.
Next, the surgeon will insert the liposuction cannula, and move it back and forth to remove excess fat. Close attention is paid while doing the procedure to ensure a smooth facial appearance.
Finally bandaging is done. It includes a special chin strap that helps the skin to heal.
Expectations after a chin liposuction procedure
After the procedure, patients can experience swelling on the incision site, which can make the chin area bulky. However, the swelling goes away in a few days if proper precautions are taken.
A person can also experience slight discomfort or pain, which will go away with the medication prescribed by the surgeon.
After the surgery, patients receive bandages at the incision and also ahead bandages to help the skin under the chin heal. It reduces the swelling and it is recommended to avoid any type of work for a week to ensure maximum recovery.
A patient has to try to remain in an elevated or upright position to speed up the healing process.
Pros and Cons of Chin liposuction
Pros
It is one of the quickest methods to remove the chin fat and shows dramatic results.
The process is pain-free and does not take much time to complete.
The results of chin liposuction are long-lasting if the patient maintains a healthy weight.
It is better than non-surgical options like Kybella
Cons
After the surgery, a person has to take off for 3 to 5 days. He also has to wear a chin strap for a week or two to reduce swelling.
Everyone is not a good candidate for chin liposuction. People with elastic skin should go for a chin lipo.
Chin surgery cost is more than non -surgical procedures.
Double Chin Liposuction cost in India
India has become very famous among both local and international patients as it provides high-quality medical services at affordable rates. The double chin surgery cost in India is very low as compared to other developed countries. The surgery is done at client-friendly rates without compromising quality. The surgery is available in the cities like Delhi & Gurgaon.
The chin liposuction cost in India depends on the following factors:
Hospital: The cost of surgery depends on the type of hospital chosen by the patient. The cost is relatively high in well-acclaimed hospitals.
Type of Surgery: The cost also depends on the technique used for the surgery. Different techniques need different tools, machinery, and expertise. Therefore, the cast may vary depending on the type of surgery.
Target area: Double chin surgery cost also depends on the complexity of the target area. The higher the complexity, the more the price.
Equipment: If the surgery involves the use of high-end equipment and the latest technology, then its cost will be high automatically.
Doctor's fee: The cost of chin liposuction mainly depends on the doctor's expertise. Highly experienced and renowned doctors charge more, but it guarantees amazing results and there is very little room for mistakes.
Double Chin & Chin surgery cost in India varies from Rs 50000 to 1,00,000. However, the results are amazing and the success rate is high.
Liposuction cost in Delhi
There are some best chin liposuction surgeons in Delhi, who perform the procedure at affordable rates. Dr. Amit Gupta is a leading liposuction surgeon in Delhi and is also the founder of Divine Cosmetic Surgery. He conducts numerous liposuction surgeries every year and thus is well versed with the needs of patients regarding the cost. The main aim of Divine is to provide affordable chin liposuction surgery in Delhi and Gurgaon.
| | | | |
| --- | --- | --- | --- |
| Chin Liposuction Cost | Starting cost | Average cost | Maximum cost |
| | 50,000 | 80,000 | 1,00,000 |
Frequently Asked Questions
How painful is chin liposuction?
There is no pain during the procedure because you are under a local anesthetic. Any pain or discomfort after the procedure goes away in 4 to 5 days. Take-the-counter medications prescribed by the doctor religiously.
Are there any risks associated with chin liposuction cost surgery?
No, this surgical procedure is risk-free and safe. There are very few risks, like puckered skin texture, but the chances are few if you get the surgery done by an experienced doctor. There is also little possibility of facial numbness but is also very rare.
How long do the results of chin liposuction last?
Chin liposuction gives long-lasting results. When the surgery is done by a good doctor, and you maintain a healthy lifestyle and avoid obesity, the results will last longer. However, with aging, the results may start disappearing.
How long after chin liposuction will the results be visible?
The results of chin liposuction become visible after a week of surgery. Patients can notice that their neck starts appearing more youthful and revitalized once the swelling after the surgery goes away.
How long does chin liposuction take to heal, and what precautions should be taken?
It takes 3 months at least to heal completely. People can return to work within one to two weeks of chin liposuction. However, you need to avoid any kind of strenuous activity for a maximum of six weeks.
Why Dr. Amit Gupta is the best chin liposuction surgeon in Delhi?
Dr. Amit Gupta keeps the safety of his patients as his topmost priority. He has years of experience in chin liposuction surgery and only recommends his patients if he thinks that the surgery can be performed safely. He keeps a close eye on his patients post-treatment and also provides pre and post-treatment plans to them.
If you still have questions regarding chin liposuction or any other procedure done at Divine including hair transplant, Abdominoplasty, breast augmentation, Gynecomastia treatment, Facelift, chin implant, etc, feel free to contact Dr. Amit Gupta to schedule an appointment with him.
Videos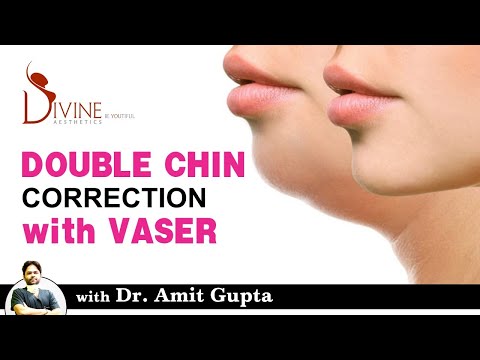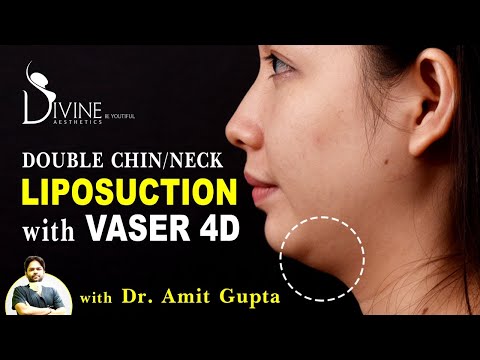 Why choose Divine
Newest Technology
Best Results at Optimum Price
Patient Safety is our Priority
Team of the Internationally Trained Plastic Surgeons
Personalized Post Surgery Follow up

Testimonials
Thank you, Dr. Amit Gupta, for providing me the correct body appearance. I am pleased with the way I was treated for Liposuction .Thanks for such a wonderful approach.
Sona Sharma