Mole Removal Surgery In Delhi (India) – Doctor & Procedure Cost
About the process of mole removal
Melanocytes are the cells that produce melanin, the pigment that gives the natural colour of your skin (complexion). Sometimes, the melanocytes get collected together and form marks called Moles. The irregular brown/black patch-like shapes on your skin is a mole. Most of the moles in our human body are genetically inherited.
But there are times where a mole can be diagnosed for melanoma (cancer cell). Or even a few individuals tend to feel it as a disturbance or when clothes snag on it. From Congenital mole to Atypical mole, any form of melanocyte gathering can be removed through proper treatment.
Divine Cosmetic Surgery is ideal for getting your mole removed at affordable rates.
Types of mole removal procedures
There are a few non-surgical approaches that will help you get your mole removed from your skin effectively. These methods include the following features:
Shave Excision: A technique where a small blade will be useful to remove the area surrounding and beneath the mole, without the requirement for a suture (stitch).
Excision Biopsy: In addition to the mole, a small portion of the skin is also removed in this process. (safety margin).
Depending upon your mole's size, shape, variant, colour, texture, appearance, and the depth of growth, other surgical or nonsurgical methods are given suggestions. However, irrespective of the demographics of your mole, the pros and cons of these treatments are individual-centric.
Divine Cosmetic Surgery is known to have a reasonably low price for its quality results.
Skin-specific treatment rates
The pricing of a mole removal process depends on two factors. One is the skin's type and the second is the type of surgical process. However, choosing the right treatment is important to get the best result and cure effectively when comparing the cost.
Divine Cosmetic Surgery has quite a low cost of mole removal surgeries in the industry.
Videos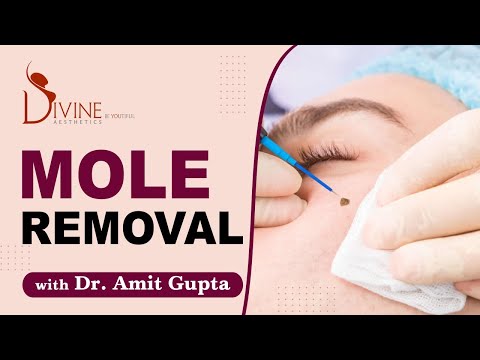 Why choose Divine
Newest Technology
Best Results at Optimum Price
Patient Safety is our Priority
Team of the Internationally Trained Plastic Surgeons
Personalized Post Surgery Follow up

Testimonials
I was having mole on my nose and it started paining, then I came to know about surgeon Dr. Amit Gupta and he did surgery and now I am happy with his surgery. Really impressed with his work. Thank you doctor.
Vinay Patel