Neck Lift & Neck Liposuction Surgery In Delhi (India) : Cost | Doctor
Neck Lift & Neck Liposuction Surgery
Are you worried about the extra and stubborn fat on your body? Do you really want to get rid of that fat but you are scared of getting liposuction? If you have answered both of these questions with a resounding yes, then you should know that the first liposuction was performed in 1974 and since then vast improvements have been made to this body contouring technique!
Over the years, liposuction has become safer and more successful than it was ever in the past. Men and women both seek liposuction treatment from all across the globe and are always looking for the best possible neck liposuction cost in India. You can also look for neck liposuction before and after images to know what this treatment can actually do for you.
However, you shouldn't look for neck liposuction near me just yet. Instead, you need to know more about the entire procedure, including neck liposuction recovery and whether neck liposuction lasts. Today, we'll help you answer all of these questions and more.
Is Neck Liposuction Surgery Safe?
Liposuction is an elaborate procedure that is carried out to remove the extra fat from your body. This procedure, if done correctly, can help you retain your former physical shape. Liposuction can be performed on any part of your body, including legs, thighs, stomach, buttocks, abdomen, back, and gynecomastia. However, for today, we are only going to focus on neck liposuction.
As you might have guessed, neck liposuction is done on the patient's neck. Neck liposuction recovery can differ from one individual to another and this procedure is done by a cosmetic surgeon. This means that you don't have to search for the answer to the question of who does neck liposuction. Further, you should note that neck liposuction is a completely safe procedure.
How Long Does Neck Liposuction Surgery Take?
The duration of the neck liposuction procedure will depend on the amount of fat that has to be removed from your body. Many patients are able to see immediate results after getting neck liposuction done. These results will also enhance over time as the swelling and bruising will also go down.
We will also be looking at the answer to the question of how long does neck liposuction takes to heal.
Am I Eligible for Neck Liposuction?
You are eligible for neck liposuction if:
You have good health

You are close to your ideal weight

You do not suffer from frequent weight fluctuations

You have firm and elastic skin

You do not suffer from medical problems like diabetes and lung disease

You have not undergone a prior surgery in the targeted area
Preparing for Neck Liposuction Surgery
Even though you might not realize this, there is a lot that goes into preparing for a neck liposuction procedure. But the first thing that you must keep in mind is that you should only get neck liposuction surgery done by the best cosmetic surgeon in India. You should not compromise on the quality of the treatment and your safety.
That being said, your neck liposuction procedure will start off with a medical evaluation. This is one of the preliminary measures appointed by the doctors. During this step, the candidate prepares for the procedure by getting certain laboratory tests done. This helps the doctor in creating a clear picture of the candidate and whether he or she is a good candidate for the surgery or not.
At this point, the candidate is also asked to get rid of any addictions related to smoking and alcohol. This is because these addictions interfere with the post-surgical recovery of the patient.
Medications like anti-inflammatory drugs should also be avoided. This is mainly because these medications increase bleeding. This is also one of the main reasons why patients should share all the relevant information with their doctor without hiding anything.
Recovery after Neck Liposuction Surgey
The recovery period after neck liposuction can vary from one individual to another. However, on average, the recovery can take roughly two weeks to three weeks. There are other factors that can impact the recovery of the candidate, including pre-existing medical conditions, type of liposuction method, area of liposuction, and amount of fat removed.
You might also be able to guess from all this that the price of neck liposuction can also be varied. This is why if you want to know about the exact cost of neck liposuction, then you should contact the best cosmetic surgeon in India.
Get Neck Lipo Done at Divine Cosmetic Surgery!
We at Divine Cosmetic Surgery pride ourselves on being the most trusted cosmetic surgery clinic in India. We have helped thousands of patients get the cosmetic treatments that they want in the safest and most result-driven environment. This is why we have been able to accomplish the goal of 100% successful neck liposuction surgeries!
This is why if you want to get a neck liposuction procedure done, then you don't need to search for anything else but the location of our Divine Cosmetic Surgery clinic. On top of all this, we are also offering a first free consultation session.
So, book your consultation today!
Frequently Asked Questions
Question 1. How long is the recovery time for neck liposuction?
Answer: The neck liposuction recovery time can be different for every patient. However, on average, the recovery time ranges from 2-4 weeks.
Question 2. How do you prepare for neck liposuction?
Answer: You can prepare for liposuction by following the guidelines laid down by your cosmetic surgeon. For example, you should avoid the consumption of alcohol and avoid indulging in smoking.
Question 4. Will I have loose skin after neck lipo?
Answer: You should not have loose skin after neck lipo if you have good skin elasticity. However, you should still consult with your cosmetic surgeon regarding the exact answer to this question.
Question 5. Can I eat after neck lipo?
Answer: Eat anything you like.
Question 6. What happens after neck liposuction?
Answer: After neck lipo, you will be able to get rid of the extra and stubborn fat that was present on your neck.
Question 7. How should I sleep after neck liposuction?
Answer: Patients should sleep on their back with their head elevated for at least 1-2 weeks of getting neck liposuction surgery.
Videos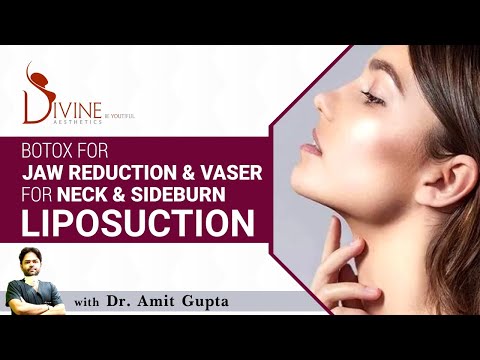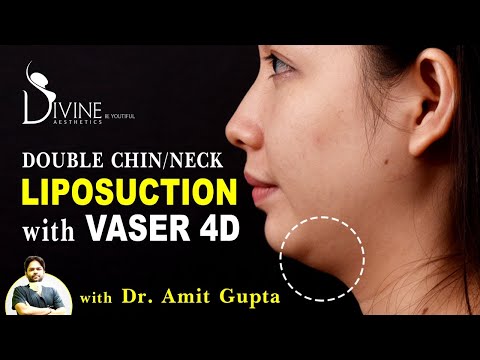 Why choose Divine
Newest Technology
Best Results at Optimum Price
Patient Safety is our Priority
Team of the Internationally Trained Plastic Surgeons
Personalized Post Surgery Follow up

Testimonials
Thank you, Dr. Amit Gupta, for providing me the correct body appearance. I am pleased with the way I was treated for Liposuction .Thanks for such a wonderful approach.
Sona Sharma